Emcees, Instructors & Judges
Emcee — Mark Kihara
Mark Kihara has become an international favorite emcee for dance events around the world. Based out of Seattle, he has been emceeing large scale dance events since the 2005. Known for his quick wit and boundless enthusiasm, Mark makes a dance event into a party. Mark has emceed every single Lindy Bout, since its inception in 2007.
Emcee — Sylwia Bielec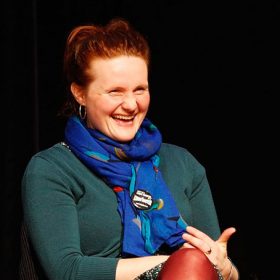 Sylwia Bielec fell in love with dance at age ten and has never looked back. Teaching lindy hop for over a dozen years both in Montreal and regionally, Sylwia believes that we are all born to move and to connect with the music and each other.
Instructors & Judges
Lindy Bout brings together some of the best Lindy Hop instructors and judges from across Canada and the States. We'll be announcing them soon.
Miranda Longaker (Seattle)
Suzi Q, Shorty George, Boogie Back, HAIR FLIP! What do all of these steps have in common? Not sure, but you can expect Miranda to toss 'em into her solo jazz movement. THERE WILL BE HAIR FLIPS FOR ALL! (No hair is required)
Jasper Palfree (Toronto)
Swing dancing took over Jasper's life in 2009. Since then he's been dancing, teaching, traveling and competing regularly. He strives to walk the razor's edge between staying connected to its history and treating it as an evolving art that should incorporate things not found in old videos. He approaches the dance with appreciation for variety and risk in improvisation. In teaching, he strives to help dancers become the best possible versions of themselves.
Louise Schwarz (Vancouver)
Louise Schwarz first caught the Jitterbug in 1999, and she hasn't stopped! Along with her husband and dance partner, Joel Schwarz, she continues to practice, teach, and learn as much about the various vernacular dances as possible, including Lindy Hop, Balboa, Charleston, Shag, Tap, Solo Jazz, and more.
Joshua Welter (Seattle)
Joshua first rock-stepped in Washington, DC in 1997, and hasn't stopped since. An experienced competitor, he has won titles at the International Lindy Hop Championships, Ultimate Lindy Hop Showdown, Lindy Focus, and other competitions. In the past few years, Joshua has combined passions for jazz dance and independent film, helping to produce Black Coffee, The Killer Diller, and Shadrach.
Claudia Nobauer (Vancouver)
Claudia has been practicing yoga since 2003 and teaching yoga since 2008. Her classes are a unique soulful mix of breath, sweat, asana and music. Claudia does her best to provide you with the fundamentals needed to be safe and the space to explore and be free within your body.
Alain Fragman & Sylwia Bielec (Montreal)
Alain and Sylwia have been dancing together in one capacity or other for over a decade. Both from Montreal, they bring to their classes an abiding love for social dance. They believe that jazz magic is created in the moment when both people have an equal voice on the dance floor. Nothing makes them happier than a dance floor filled with people truly dancing WITH each other, in all their quirky uniqueness. They are founding members of the Northern Lights, teach locally at Cat's Corner in Montreal, and have taught workshops in Quebec City, Rochester, Boston, Toronto, Ottawa, and at other events such as Swing Out New Hampshire.
Eileen Jones & Eric Shaw (Vancouver)
Despite being on rival dance teams in the early 2000s, Eileen and Eric have enjoyed a shared love of fast swing outs for over 15 years. Their recent performance and competition highlights include the infamous Maple Leaf Syncopation Nation pretzel spotlight and first place in the 2014 Rhythm City Mess Around Jack & Jill. Eileen and Eric currently teach for Rhythm City Productions.
Krystal Moss & Turlough Myers (Edmonton)
Lindy Bout Champions Krystal and Turlough have, together and separately, taught Lindy Hop and Vintage Jazz workshops throughout Canada. They are now based in Edmonton, teaching and coaching with Sugar Swing Dance Club. Krystal and Turlough have nearly three decades of dance experience between them, and they cannot wait to share their love of Lindy Hop with you!
Meghan Gilmore & Leo Newman (Montreal & Ottawa)
Meghan and Léo have both been doing the lindy hop since before they were old enough to drive. They met at Lindy Bout years ago. Both have lived in Eastern and Western Canada (and France). Recently, a joke turned into finals at ILHC. None of this will be apparent in class as you'll be having such a good time swinging out!
Joel Schwarz, aka Professor Smack (Vancouver)
Joel has been feasting on Jazz Music and Dance for 17 years. Joel met his dance partner and wife, Louise Schwarz when they first started dancing and, together, they have studied a wide variety of vernacular jazz including Lindy Hop, Tap, Balboa, Shag, Solo Jazz, Charleston and more. When he's not studying jazz dance history, Professor Smack can be found running around his house in a dress with an umbrella hoisted above his head. (While pretending with his daughter Amy that they are Mary Poppins flying through the sky.)