The Music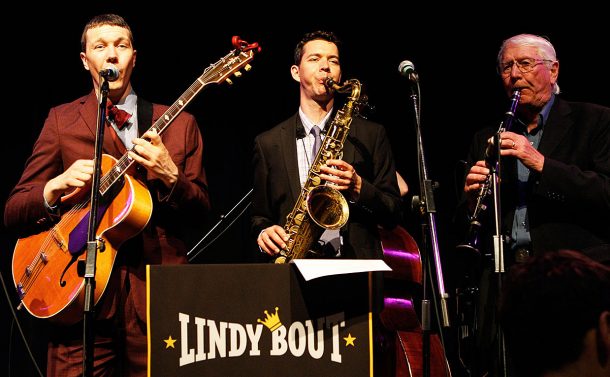 Stay tuned for more information about our djs and daytime musical happenings, including Sunday's gospel jazz brunch.
Match & Friday Night DJ — Meghan Gilmore
Meghan is a pan-Canadian lindy hopper with a great passion for the music that makes us all want to swing out, just the way that Frankie Manning and his friends did back at the Savoy. She loves the sounds of the big bands and musicians of the swing era like our friends Count Basie, Earl Hines and Johnny Hodges among many others. You may have danced to her sets at recent events such as Herräng Dance Camp, ILHC, Snowball and of course at Lindy Bout 2014, 2015, 2016, and 2017!
Thursday Night DJ — Lu Yang
Dj Lu started djing the spring of 2015 when she participated in a fresh meat night at Rhythm City. She is now a regular dj and has dj'd at such events as RCMA in Vancouver, Lindy Shock University in Budapest, and Cats Corner in Beijing. Lu has a love for Louis Armstrong and contemporary jazz bands such as Hot Sugar Band and Gordon Webster. Lu always aims to play a perfect mix of music to keep all types and levels of dancers swinging all night.
The Jen Hodge All Stars (Thursday, Sunday)
The Jen Hodge All Stars are a mainstay of Vancouver's swingin' jazz scene and are a lifeline for local dancers. When Jen's leading the band, she likes hard swinging grooves, boisterous New Orleans style horns, cheeky lyrics, intriguing arrangements, and plenty of spontaneous fun. It is evident that she has an infectious love for making music. Jen's particular expertise in the arena of traditional jazz and swing music has taken her to stages all over Canada, the US, China, Spain, France, the UK, and the Caribbean. On home turf, Jen's been leading the Jen Hodge All Stars on Wednesday nights since 2011 at Guilt & Co, a bar in Vancouver's historic Gastown district and a major hub for the city's musical creative minds.
Lindy Bout XII will feature two separate iterations of the band: the Jen Hodge All Stars, Vancouver Special Edition will take the stage on Thursday night, and on Sunday, Jen will lead us through a very special "Three Sets, Three Decades" tribute to the Savoy Ballroom.
Band line-ups will be announced in 2018.
Josh Roberts Orchestra (Friday, Saturday)
​The Josh Roberts Orchestra was founded as an eight-piece orchestra in 2014 for Vancouver's local Frankie 100 celebrations, expanded into a ten-piece, hard-swinging big band in 2016 for Lindy Bout X, and became a 15-piece force of nature in 2017. The band features the music of Count Basie, Jimmie Lunceford, Chick Webb, and many other greats of the thirties and forties. With the polished skills of an all-star cast of band members, the end result is a repertoire stacked with irresistible high energy music that sends you right back to the Swing-era dance halls.
This year, we are thrilled to have the Josh Roberts Orchestra playing both Friday and Saturday nights - with a line-up that showcases the best of the Pacific Northwest!
Band line-up will be announced in 2018.