The Music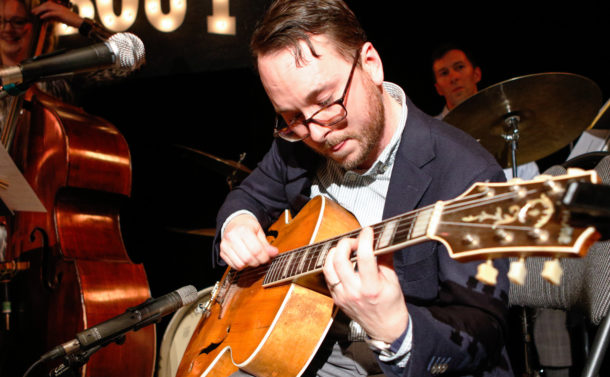 Josh Roberts Orchestra Live at Lindy Bout
We're recording an album!
This year is the final Lindy Bout and we're making sure the memories will last by recording the long-awaited Josh Roberts Orchestra Live at Lindy Bout album. The JRO is close to our hearts: it premiered at Lindy Bout X and has been our house band ever since. We can't wait to share the sound swingin' sounds of Lindy Bout with the rest of the world.
JRO will be recording during the (sold-out) Friday and Saturday evening dances, plus a private pre-Lindy-Bout recording session on Thursday.
To learn more about the recording project, visit our (fully funded!) Indiegogo campaign.
Evening Bands
Bonnie Northgraves Swingin' Six (Thursday)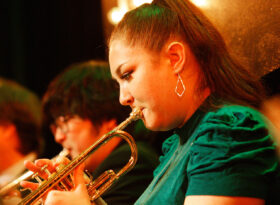 Bonnie is a trumpet player, vocalist, pianist, and composer based in Vancouver. Her singing is smokey, rich, and explorative, and her trumpet playing a call to the early jazz styles of New Orleans while being lyrically intriguing, evolved, and playful. With one foot rooted in heritage and one leading forward she is a musical powerhouse that is exciting, joyful and chock full of personality. This powerful combination has given wings to a music career that's seen her tour North America, Europe, China, and India. Bonnie has released two albums and one EP, and books the jazz programming at 2nd Floor Gastown at The Water Street Cafe.
Bonnie Northgraves – trumpet and vocals
Brent Mah – saxophone
Jodi Proznick – bass
Dave Robbins – drums
Dean Thiessen – piano
Josh Roberts – guitar 
Josh Roberts Orchestra (Friday, Saturday)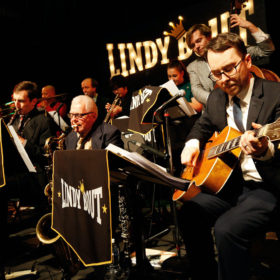 The Josh Roberts Orchestra was founded as an eight-piece orchestra in 2014 for Vancouver's local Frankie 100 celebrations, expanded into a ten-piece, hard-swinging big band in 2016 for Lindy Bout X, and became a 15-piece force of nature in 2017. The band features the music of Count Basie, Jimmie Lunceford, Chick Webb, and many other greats of the thirties and forties. With the polished skills of an all-star cast of band members, the end result is a repertoire stacked with irresistible high energy music that sends you right back to the Swing-era dance halls.
Saxes: Jacob Zimmerman, Jonathan Doyle, Geoff Claridge, Thomas Harris
Trumpets: Derry Byrne, Bonnie Northgraves, Jocelyn Waugh (Friday), Brad Turner (Saturday)
Trombones: Jerome Smith, Brian Harding
Rhythm: Josh Roberts – guitar, Dean Thiessen – piano, Jen Hodge – bass, Kelby McNayr – drums
Jen Hodge All Stars (Sunday)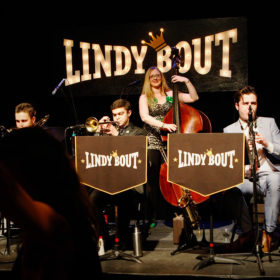 Busy BC-bred / NYC-based bass player, vocalist, bandleader, and arranger Jen Hodge is a versatile musician who can be found playing with a wide variety of artists all over the world. Jen's playing is characterized by hard swinging grooves, an expressive and energetic playing style, and an evident, infectious love for making music. Her steadfast bass playing and consummate professionalism have taken her to stages all over Canada, the USA, China, Spain, France, the UK, Sweden, and the Caribbean. Before her recent relocation to New York, Jen spent 17 years in Vancouver, where she developed a very strong bond with the local swing dance community, performing regularly at dances, fostering a scene at Guilt & Co., and playing bass on a great many of the city's trad jazz and swing events, whether as a bass player or bandleader. Jen is over the moon to be returning to Vancouver for Lindy Bout XV.
"…swinging so hard, with such taste, and individuality."
– Michael Steinman, JAZZ LIVES, New York, NY
Jonathan Doyle – reeds
Brad Turner – trumpet
Jerome Smith – trombone
Josh Roberts – guitar
Jen Hodge – bass, vocals
Kelby MacNayr – drums
Daytime Bands
Joe Abbott & Friends (Friday afternoon)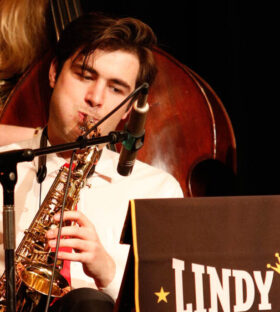 Vancouver favourite Joe Abbott will be leading a band during Friday's Lindy Bout Family Hootenanny! 
Joe Abbott – reeds
Bonnie Northgraves – trumpet
Josh Roberts – guitar
Jen Hodge – bass
Kelby MacNayr – drums
Jen Hodge All Stars (Saturday afternoon)
The Jen Hodge All Stars will also be playing on Saturday afternoon, providing live music for Round 2 of the Mapleweight.
Joe Abbott – reeds
Jonathan Doyle – reeds
Bria Skonberg – trumpet
Jerome Smith – trombone
Josh Roberts – guitar
Jen Hodge – bass
Jason Winikoff – drums
DJs
Julia Franta (Victoria)
​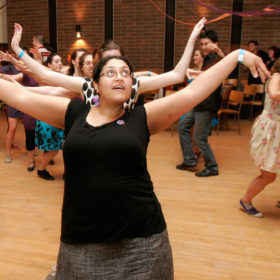 Julia Franta, known as DJ Frantana to some, shiny shoes to others, hails from Victoria. Julia began DJing out of curiosity, trying out her chops at a fresh meat night many years ago. It went well and curiosity turned into a love for DJing and the music that makes us want to dance.
Nick Davis (Eugene)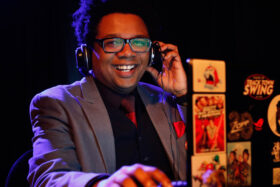 Nick Davis (aka DJ Nick at Night) began dancing in 1998 and discovered Lindy Hop in 2002. Since founding Eugene, Oregon's Track Town Swing in 2012, Nick has traveled around the globe to hone his dancing skills. He was the 2014 Frankie Manning Foundation Ambassador to Herräng Dance Camp in Sweden. Since then, he has become part of the Frankie Manning Foundation and is actively involved in shaping the future of the global swing dance scene. Nick can be found teaching in his home scene or DJing at events like Camp Jitterbug, Lindy Bout, Midwest Lindy Fest, Lindy Focus, or Herrang Dance Camp. He enjoys the work and believes that bringing people together through the joy of swing dancing and jazz music is his true life calling.
Lucy Falkner (Vancouver)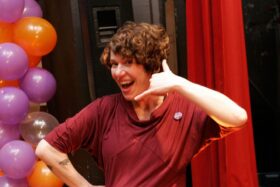 Lucy Falkner has been DJing for Swing dancers since 2000. The musical priorities and preferences of local and global Swing scenes have shifted numerous times over the decades, as has Lucy's DJ style. But as the momentary trends come and go, what she continues to aim for is a harmony of three priorities: connection to the original creators and innovators, inclusion of contemporary creators whose work honours the roots, and bringing a swinging party.
Leah Wilcox (Calgary)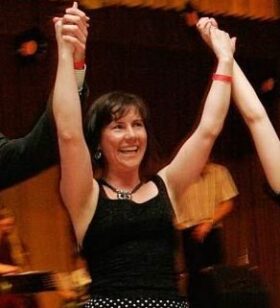 Leah Jo (DJ TYF) has been collecting jazz since her first vinyl but is really happy to be able to now collect it in a lighter form to carry, even though she still keeps her vinyl safe for personal listening. The reason she was so attracted to lindy hop was because it gave her one more excuse to listen to more jazz and collect more jazz in any form, throw in the option of traveling to wonderful new places and meeting people from around the world who shared this passion and she was hooked permanently.