The Music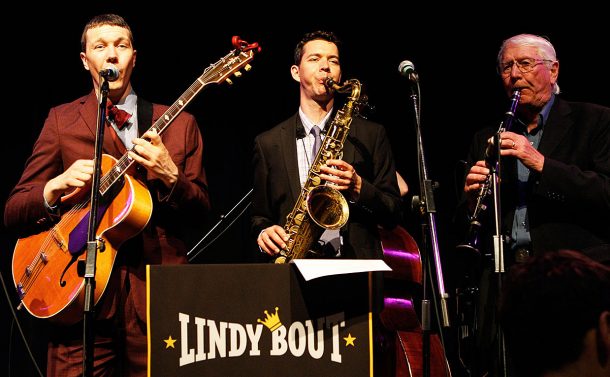 Evening Bands
The Jen Hodge All Stars (Thursday, Sunday)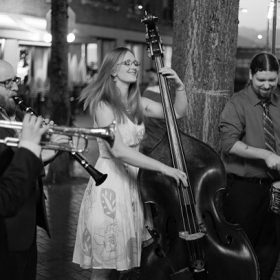 The Jen Hodge All Stars are a mainstay of Vancouver's swingin' jazz scene and are a lifeline for local dancers. When Jen's leading the band, she likes hard swinging grooves, boisterous New Orleans style horns, cheeky lyrics, intriguing arrangements, and plenty of spontaneous fun. It is evident that she has an infectious love for making music. Jen's particular expertise in the arena of traditional jazz and swing music has taken her to stages all over Canada, the US, China, Spain, France, the UK, and the Caribbean. On home turf, Jen's been leading the Jen Hodge All Stars on Wednesday nights since 2011 at Guilt & Co, a bar in Vancouver's historic Gastown district and a major hub for the city's musical creative minds.
Lindy Bout XII will feature two separate iterations of the band: the Jen Hodge All Stars, Vancouver Special Edition will take the stage on Thursday night, and on Sunday, Jen will lead us through a very special "Three Sets, Three Decades" Salute to the Savoy Ballroom.
Vancouver Special Edition (Thursday): Trevor Whitridge (trumpet), Joseph Abbott (clarinet), Sky Lambourne (trombone), Jack Ray (guitar), Jen Hodge (bass), Kelby MacNayr (drums)
Salute the Savoy (Sunday): Alan Matheson (trumpet), Ben Henriques (clarinet & saxophone), Brad Shigeta (trombone), Josh Roberts (guitar), Jen Hodge (bass), Kelby MacNayr (drums)
Josh Roberts Orchestra (Friday, Saturday)
​The Josh Roberts Orchestra was founded as an eight-piece orchestra in 2014 for Vancouver's local Frankie 100 celebrations, expanded into a ten-piece, hard-swinging big band in 2016 for Lindy Bout X, and became a 15-piece force of nature in 2017. The band features the music of Count Basie, Jimmie Lunceford, Chick Webb, and many other greats of the thirties and forties. With the polished skills of an all-star cast of band members, the end result is a repertoire stacked with irresistible high energy music that sends you right back to the Swing-era dance halls.
This year, we are thrilled to have the Josh Roberts Orchestra playing both Friday and Saturday nights - with a thirteen-piece line-up that showcases the best of Western Canada!
Alan Matheson (trumpet), Michael Kim (trumpet), Bonnie Northgraves (trumpet), Brad Shigeta (trombone), Luis Melgar (trombone), Geoff Claridge (saxophone), Ben Henriques (saxophone), Jack Stafford (saxophone), Chris Startup (saxophone), Shannon Thue-Piggot (piano), Josh Roberts (guitar), Wynston Minckler (bass), Kelby MacNayr (drums)
Daytime Bands
Blackstick (Sunday)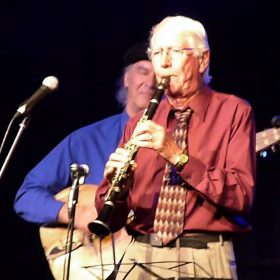 Lloyd Arntzen: jazz legend, folk singer, Spirit of Lindy Bout XI. We're thrilled to have everyone's favourite musical grandpa bring his signature two-clarinet band back to Lindy Bout and headline the daytime music on Sunday. Blackstick is teaming up with Joel and Louise Schwarz for the expanded, multi-media Historical Jazz Happening. Then, Blackstick will lead us on a spiritual journey through the land of jazz during the afternoon's Gospel Jazz Brunch.
Lloyd Arntzen (clarinet), Joseph Abbott (clarinet), Tom Arntzen (piano), Jen Hodge (bass), Scott Robertson (drums)
Jazz Jam (Friday)
Dancers, bring your instruments! Musicians, bring your dancing shoes! At the Lindy Bout XII jazz jam, everyone can play music, everyone can dance, and together we can create a big ole' jazzy party. 
Jen Hodge (bass & wrangling), Josh Roberts (guitar & wrangling), Brad Shigeta (trombone & wrangling), all the Lindy Bouters (playing all the instruments, and bringing all the joy)
DJs
Meghan Gilmore (Match DJ & Friday Evening DJ)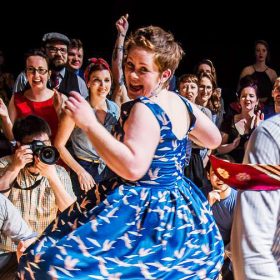 Meghan is a pan-Canadian lindy hopper with a great passion for the music that makes us all want to swing out, just the way that Frankie Manning and his friends did back at the Savoy. She loves the sounds of the big bands and musicians of the swing era like our friends Count Basie, Earl Hines and Johnny Hodges among many others. You may have danced to her sets at recent events such as Herräng Dance Camp, ILHC, Snowball and of course at Lindy Bout 2014, 2015, 2016, and 2017!
Lu Yang (Thursday Evening DJ)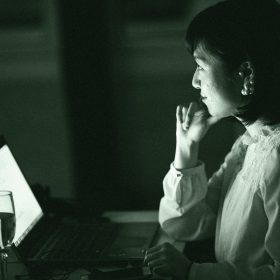 DJ Lu started djing the spring of 2015 when she participated in a fresh meat night at Rhythm City. She is now a regular DJ and has DJ'd at such events as RCMA in Vancouver, Lindy Shock University in Budapest, and Cat's Corner in Beijing. Lu has a love for Louis Armstrong and contemporary jazz bands such as Hot Sugar Band and Gordon Webster. Lu always aims to play a perfect mix of music to keep all types and levels of dancers swinging all night.
Katie Kihara (Interregional DJ & Instructor)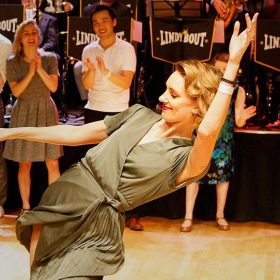 Katie Kihara has been dancing, teaching, competing, and performing lindy hop since 2007. As an instructor, she prides herself on partnership skills that empower both roles to dance their best. Katie is also a longtime member of Sister Kate, Seattle's longest running all-female chorus troupe. She currently teaches weekly class series at Seattle home for happy feet, The Century Ballroom. Katie specializes in party music and made her swing dance DJ debut at Lindy Bout XI. She's looking forward to bringing more surprises to this year's Interregional Division!
Leah Wilcox (Sunday Evening DJ)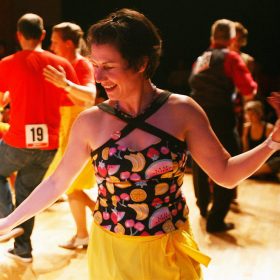 Leah started collecting jazz music when it was still being regularly produced on vinyl, but is so glad she can now collect great jazz in digital format to feed her library because she likes to travel with only carry on luggage. Back in the mid 2000's Leah decided she needed to round out her recreational activities with something that had less adrenaline and more creativity, she was thrilled to find out that people were still swing dancing to jazz. The only thing she likes better than swinging out to jazz is spinning jazz for dancers that makes them want to swing out!