Code of Conduct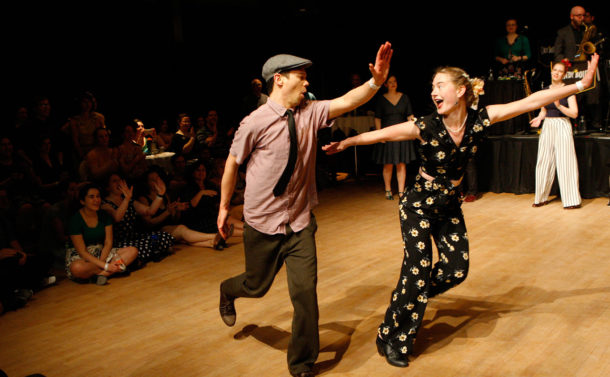 We are in the process of developing Lindy Bout policies concerning alcohol and cannabis. When they are ready we will notify all attendees and post them publicly before Lindy Bout XIII.
Lindy Bout is a dance and music event dedicated to providing a fun, joyful, safe, inclusive, playful environment.
As a Lindy Bouter, you are a valued and unique part of that environment. Here are a few priorities which are deeply important to the organizers and the Lindy Bout community. All Lindy Bouters are expected to read and follow the guidelines below.
Everyone is entitled to an environment free from harassment. This environment is for everyone regardless of gender/gender identity, race, sexual orientation, disability, physical appearance, religion, age, or dance experience/skill/style.
Lindy Bout will not tolerate harassment of any kind. This includes homophobic, racist, misogynist, ableist, transphobic language, unwelcome sexual language, inappropriate touching, and inappropriate comments on physical appearance. All participants are entitled to enjoy the thrill of partner dancing without having to confront unwelcome interest or inappropriate comments on their body or physical appearance.
Anyone can ask anyone else to dance, regardless of dance role, level, or involvement in Lindy Bout. Anyone can say no to a dance without obligation or excuse.
Have care for the safety and comfort of your partner and those around you on the dance floor. Air steps (aerials) on the social floor are unsafe and will not be tolerated. Save them for jams, competitions, and performances. If you or your partner bumps, kicks, or otherwise interacts in an unsafe way with someone else on the dance floor, check that all are okay before continuing to dance.
In short, be a positive and considerate contributor to, and participant in, our wonderful, joyous, and welcoming celebration of dance and music.
Event organizers will attend to all concerns brought forward with care and discretion, according to the needs and wishes of the concerned party and the severity of the concern. Event organizers may take any action they deem appropriate, including warning the offender or expulsion from the event with no refund.
If you experience, witness, or hear of a violation of this code, or an instance of behaviour that causes you concern, there are a variety of things you can do. 
Speak to a Safer Spaces Advocate. Beth (she/her; Saskatoon); Devon (she/her; Victoria); Kaitlin (Vancouver); Leah (she/her; Calgary); Liana (they/them; Victoria/Vancouver); Tynan (he/him; Vancouver); Tyrel (he/him; Edmonton).
Speak to an event organizer (Stephanie Taylor or Eileen Jones).
Speak to an event volunteer, who will direct the concern to an event organizer.
Speak to a friend, someone you're comfortable with, and ask them to join you in speaking with an organizer or advocate or speak to them on your behalf.
Send an email to saferspaces@vernacularjazzdancesociety.ca.
We welcome feedback and comments on our Code of Conduct. You can contact us at saferspaces@vernacularjazzdancesociety.ca or speak to an event organizer directly.
On November 10th, 2018, the Lindy Bout Event Directors made a statement about an issue in our community.