Thanks!!!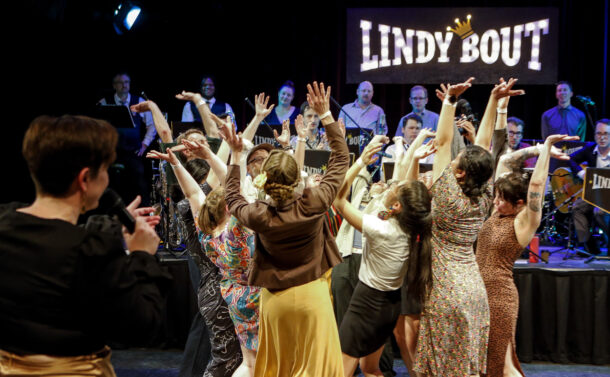 Dearest Lindy Bouters,
Thank you for 15 years of Lindy Bout and this year's round of revelry and raucousness, of inspiration and perspiration, of jazz and joviality in beautiful Vancouver. After an incredible final year, our hearts are overflowing with gratitude and love for our community.
Each year, Lindy Bout was wrangled and run by a small army of dedicated people and organisations to whom we owe a great debt of gratitude. Lindy Bout XV is no exception.
Thank you to all the backers and supporters of the Josh Roberts album, especially the executive producers: Kaleb Elwert and the Uptown Swing Collective.
Thank you to our sponsors: the Granville Island Hotel, Saf Shoes, and Pefferlaw Creek Farms.
Thank you to Dave Henderson Sound, Rocketday Arts, the Dance Camps registration system, Performance Works staff, and the Granville Island Theatre District.
Thank you to the generous events that donated prize passes: Camp Jitterbug, Rhythm City Mess Around, Track Town Throwdown, Cat's Corner Exchange, Capital City Stomp, PLEX (Prairie Lindy Exchange), O-Town Showdown, Vernacular Spectacular, Portland Lindy Exchange, B'ham Swing Jam, and a Yet-to-be-Named Swing Dance Exchange organised by the Uptown Swing Collective.
Thank you to our diligent and hard-working front-line volunteers: Alison McKnight, Antonio Cervantes, Barbara (Babs) Sioson Toribio, Claire Macdonald, Darrel Yurychuk, Eden Wallis, Isay Rodrigo, Jamie Parsons, Janelle Yum, Jenn Gamracy, Jenny Lee, Johann De Guzman, Karen Hamilton, Balie Tomar, Katie Liebault, Katie Tang, Kristin Bowie, Maria Belen de Rama, Marita Eden, Roshin Ravi, Sally Hiller, Sunny Enkin Lewis, and Vivien Yau.
Thank you to our caring and compassionate Safer Spaces team: Damian Cade, Devon Black, Leah Wilcox, Lily Cory, Liana Stammers, Melissa Martensen, Stephanie Demetreon, and Tyrel Brochu.
Thank you to all our knowledgeable and jazz-loving judges, instructors, and DJs: Lucy Falkner, Alain Fragman, Aleks Valuiskikh, Anaïs Sékiné, Ariel Goh, Ben White, Calico Seders, Claudia Nobauer, Damian Cade, Dina Waluyo, Doug Barber, Edina Shaw, Eric Shaw, Gen St-Laurent, Julia Franta, Julie Kiraly, Kofi Arthiabah, Leah Wilcox, Nick Davis, Phil Bourassa, and Sylwia Bielec.
Thank you to our brilliant and talented bands and emcees: Josh Roberts Orchestra, Jen Hodge All Stars, Bonnie Northgraves Swingin' Six, Joe Abbott & Friends, Meghan Gilmore, and Sylwia Bielec.
Thank you to our deeply supportive and dedicated event organisers: Geoff Oakham, Graham Adamson, Laura Avelino, Damian Cade, Mary Jean Cameron, Amy Farahbakhsh, Jasmine Farahbakhsh, Read Fenton, Emmanuel Guevarra, Justin Lee, Annie Liang, Lisa Marks, Melissa Martensen, Krystal Moss, Claudia Nobauer, Jean-Michel Oblette, Liana Stammers, Alain Wong, and Jason Yourk.
And thank you to YOU, dearest Lindy Bouter, for being part of this extended family united by jazz.
Whether you've joined us for one year or many, thank you to each of you for events both in-person and online, with singalongs, raucous cheering, questioning ourselves and thoughtful discussion, mutual inspiration and throwing down on the dance floor, #jazztears, and so much more. We've met so many new friends, we've shared some amazing competition moments, we've danced to unforgettable live jazz, we've created and nurtured a space for jazz creativity. Lindy Bout was founded to inspire dancers through competition and it's safe to say we achieved this goal together. Thank you!
It has not always been easy and as organisers we've taken on so much more than we ever imagined… and in return we received more than we could ever give. Thank you from the bottom of our hearts.
We've been humbled to hear how Lindy Bout has touched so many people and journeys. We know that the Lindy Bout spirit is so much bigger than the event; it's in ourselves, our people, and our communities. You all are the keepers of the Lindy Bout spirit. So keep sharing your memories, inspiration, and creativity. We can't wait to see how the spirit continues to spread.
Love and swing outs,
Stephanie McKernan Taylor & Eileen Jones
Lindy Bout Event Directors