Thanks!!!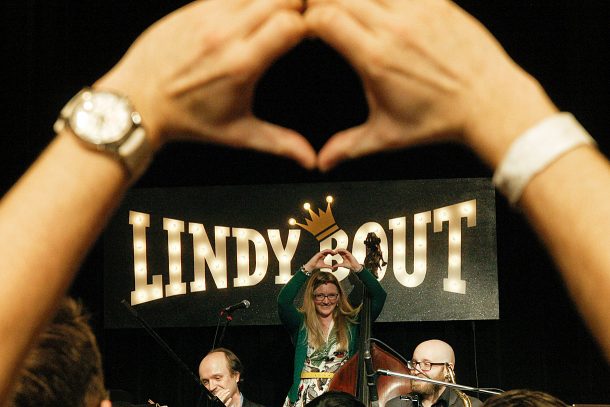 Dearest Lindy Bouters,
Thank you #LBfam for such an extraordinary weekend. We were blown away by your creativity, your spirit, and your effervescence in jazz. We were heartened to witness your raucous support for one another and your unwavering celebration of our community. The energy at LBXII was Through. The. Roof.
What many folks may not know is that this was a year of transition. Lindy Bout said goodbye to a few long-term organizers and welcomed many new faces to the team. We were nervous to see how the weekend would turn out, and doubly so when we learned that Stephanie couldn't be there in-person. And yet, together, our community created what just may be the best Lindy Bout yet!
And so, we say thank you to every organizer, volunteer, judge, instructor, dj, musician, emcee, and dancer that stepped up and made the weekend one to remember.
To our Lindy Bout team who works year-round to make Lindy Bout happen, you are the lifeblood of this event — thank you! Geoff Oakham, Amy Farahbakhsh, Brian MacDonald, Emrys Damon Miller, Doug Barber, Jason Yourk, Jean-Michel Oblette, Jen Burgess, John Marian, Johnna Gurgel, JP McGlynn, Justin Lee, Kaitlin Russell, Laura Avelino, Liana Stammers, Lindsay Leong, Lisa Marks, and Mary Jean Cameron.
To our weekend workers on the front lines armed with generosity and welcoming smiles — thank you! Ania Budko, Annie Liang, Atour Mansour, Bahar Dehnadi, Bryce Dombrowski, Camille Preville, Craig Campbell, Danielle Fogarty, Darrel Yurychuck, Dominique Melancon, Gabrielle Lepage, Janelle Yum, Jason Chan, Jenn Gamracy, Jody Boyko, Katalina Watt, Katie Liebault, Katie Tang, Kristin Bowie, Kristen Funk, Roy Abraham, Tanya Lyons, Timothée Govare, Tori Kornelson, Vivek Mahajan, and Wiley Gorn.
To our emcees, djs, musicians, judges, and instructors, your talent filled the house with knowledge and jazz — thank you! Mark Kihara, Sylwia Bielec, Meghan Gilmore, Alain Fragman, Ben White, Blackstick, Claudia Nobauer, Jen Hodge, the Jen Hodge All Stars, Joel Schwarz, Josh Roberts, the Josh Roberts Orchestra, Joshua Mclean, Joshua Welter, Julie Kiraly, Katie Kihara, Kofi Arthiabah, Krystal Moss, Leah Wilcox, Lisa Marks, Lloyd Arntzen, Louise Schwarz, Lu Yang, Lucy Falkner, Maggie Wilson, Miranda Longaker, and Phil Bourassa.
To our safer spaces advocates who helped nurture the love and respect in the room — thank you! Beth Schwartz, Devon Black, John Marian, Kaitlin Russell, Leah Wilcox, Liana Stammers, Tynan Rollo, and Tyrel Brochu, plus Kim Dee and Mel Mariposa Cassidy from the Consent Crew.
To Granville Island Brewing and Granville Island Hotel for your sponsorship — thank you!
To all the events that generously gave our champions prizes — thank you! Portland Lindy Exchange, Big Bang Jazz Band's 20th Birthday Party, Spring Fling by the Sea, Camp Jitterbug, Summer Solstice Swing Dance Festival, Stompology, Seattle Lindy Extravaganza, Swing Out New Hampshire, Rhythm City Mess Around, Pentastic Hot Jazz Festival, Lindyworks, Lindy Harvest, Cat's Corner Exchange, Autumn Rhythm, O-Town Showdown, and PLEX (the Prairie Lindy Exchange).
To Dave Henderson Sound, Performance Works, and the incredible staff at the Granville Island Cultural Society for helping us to look and sound our very best — thank you!
And thank you to you, Lindy Bouter, for being part of this extended family united by jazz. We love you madly.
See you next year at Lindy Bout XIII! (April 4-7, 2019 in Vancouver, BC.)
Love and swing outs,
Eileen Jones (aka Bossy Nomad)
Stephanie McKernan Taylor (aka Bossy Mama)