Emcees, Instructors & Judges
Emcee & Instructor — Sylwia Bielec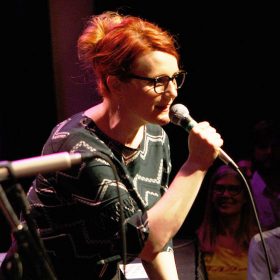 Sylwia Bielec is a dancer, teacher, performer, curriculum designer and emcee from Montreal. She is the house emcee at Cats Corner and has co-emceed the Montreal Swing Riot and CCX. She made her West Coast début last year at Lindy Bout XI. Above all, Sylwia values collaboration, authenticity and effervescene on the dance floor and in the community. 
Instructor & Judge — Alain Fragman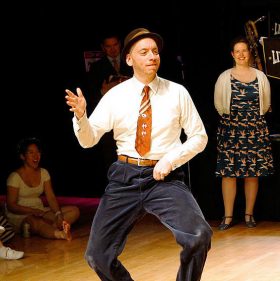 Alain hails from Montreal and has been dancing almost 20 years. He has taught all over the world and co-coaches a dance troupe in Montreal with Sylwia. His most coveted achievement is winning the ULHS Showdown battle in 2013. Alain is a founding member of the Northern Lights Team. A talented and musical dancer, Alain teaches dancers to connect to the music and to their partner through active listening and response. When he dances, teaches, performs, or competes, Alain's purpose is to spread the joy of dance and inspire others.
Instructors & Judges — Joel & Louise Schwarz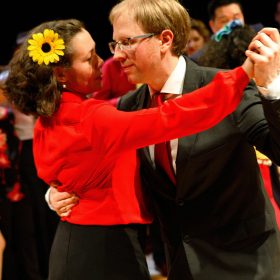 Joel and Louise Schwarz have been dancing together since they met in their first intro to dance class in 1999. Soon after, they teamed up as partners and they have trained and studied together in a wide variety of vernacular jazz dances.
Instructor — Joshua Mclean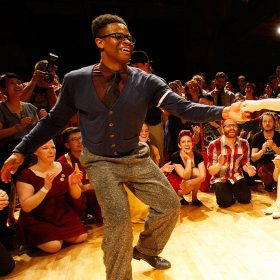 Joshua Mclean loves Lindybout! He is a Jazz dancer and Instructor residing in Seattle, WA. He sees the potential for creativity each time there is an opportunity to step out onto the dance floor. Whether dancing solo or partnered, he enjoys exploring how dancers work together–or alone to "create" within Lindy Hop and Vernacular Jazz dances.
Instructor & Judge — Joshua Welter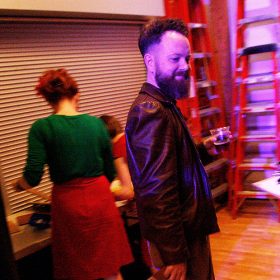 Joshua first rock-stepped in Washington, DC in 1997, and hasn't stopped since. An experienced competitor, he has won titles at the International Lindy Hop Championships, Ultimate Lindy Hop Showdown, Lindy Focus, and other competitions. In the past few years, Joshua has combined passions for jazz dance and independent film, helping to produce Black Coffee, The Killer Diller, and Shadrach.
Instructor & Judge — Julie Kiraly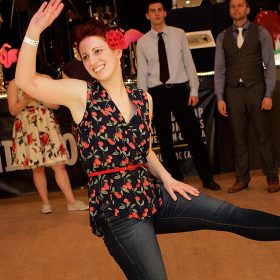 After taking her first Lindy Hop class with Swing-Out Edmonton in 2002, Julie was hooked! Dedicating her life to dancing, she travelled across the globe to study Jazz Roots dances and meet new Lindy Hoppers. On the dance floor, she coaches Lindy Hop and Solo Jazz troupes, performs, competes, and loves to social dance. Off the dance floor Julie enjoys clowning, sci-fi shows, and hanging out with her cats. Julie has been to every Lindy Bout to date, and is thrilled to be teaching for LBXII!
Instructor — Kofi Arthiabah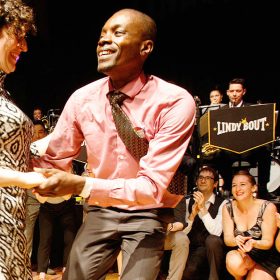 For Kofi, the world is one big dance floor. He can be seen dancing up a storm wherever and whenever the music moves him. Lindy Bout holds a special place in his heart and is thrilled and excited to share #lindylove at Lindy Bout.
Instructor & Judge — Krystal Moss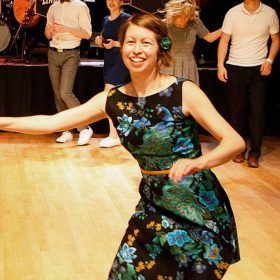 For Edmonton dancer Krystal Moss, Solo Jazz is the bee's knees - ha! Krystal has been developing her love of Vernacular Jazz and solo movement for many years as a dedicated teacher, professional performer, troupe member, and coach. She is thrilled to be a part of Lindy Bout 2018 and can't wait to share the dance floor with you!
Instructor — Miranda Dasu Longaker
Suzi Q, Shorty George, Boogie Back, HAIR FLIP! What do all of these steps have in common? Not sure, but you can expect Miranda to toss 'em into her solo jazz movement. THERE WILL BE HAIR FLIPS FOR ALL! (No hair is required)
Instructor & Judge — Phil Bourassa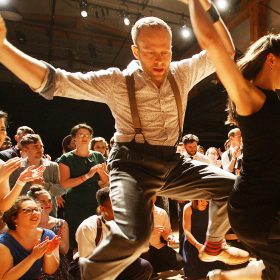 Phil lives and breathes Lindy Hop, and is suuuuper excited for yet another awesome Lindy Bout. When he's not social dancing, Phil enjoys teaching, writing choreography, scene building though his co-ownership of the Bees Knees Dance studio in Toronto and running a weekly social dance. Off the dance floor he enjoys lifting heavy things up and putting them back down.