Schedule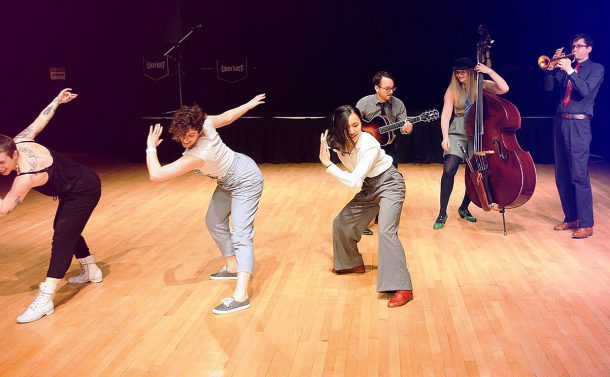 All Lindy Bout events will be held on Granville Island, at or near Performance Works.
Standard warning about the schedule: The Lindy Bout organizers reserve the right to rearrange the Schedule and Match formats. Any changes will be noted on this website if they occur before Lindy Bout XII, or will be announced by the emcees if they occur during the event.
Expect more details in the new year, but here's an idea of how the weekend is shaping up.
Thursday, April 5
Doors open and the weekend kicks off with a bang! The dance will feature live music with The Jen Hodge All Stars, Vancouver Special Edition. The first competitions will get underway with the preliminary and final rounds of the Endurance Match.
Friday, April 6
The daytime will be full of dancing, music, and quality time with the Lindy Bout family, including a jazz jam and other treats.
The evening dance will feature the swinging sounds of the Josh Roberts Orchestra and preliminary rounds of the Barnburner, Knockdown, Haymaker, and Interregional Partner Draws.
Saturday, April 7
The daytime will include workshops for all levels of dancers, social dancing, and the preliminary rounds of the Featherweight, Bare-Knuckle Bout, Uppercut Bout, and Solo Jazz.
The evening dance will feature a the Josh Roberts Orchestra, the final rounds of most Matches, and plenty of social dancing.
Sunday, April 8
The daytime will include a historical jazz happening, a gospel jazz brunch, the choreography-based Matches, awards, and all sorts of shenanigans!
The evening dance will bring Lindy Bout XII to a close with the preliminary and final rounds of All That Jazz.  The Jen Hodge All Stars will play a very special "Three Sets, Three Decades" tribute to the Savoy Ballroom. 
Arriving Early? Staying Late?
Join the Jen Hodge All-Stars for an unofficial Lindy Bout pre-party and after-party at their weekly Wednesday gig at Guilt & Company in Gastown. Music from 9:30pm until late. Admission by donation. 19+.