The Music
Match DJ — Meghan Gilmore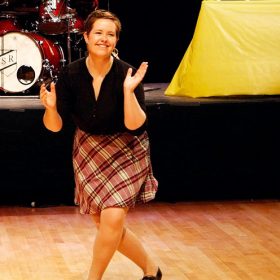 Meghan is a pan-Canadian lindy hopper with a great passion for the music that makes us all want to swing out, just the way that Frankie Manning and his friends did back at the Savoy. She loves the sounds of the big bands and musicians of the swing era like our friends Count Basie, Earl Hines and Johnny Hodges among many others. You may have danced to her sets at recent events such as Herräng Dance Camp, ILHC, Snowball and of course at Lindy Bout 2014, 2015, and 2016!
Special Musical Guest — Evan Arntzen
Evan Arntzen is a saxophonist, clarinetist, and vocalist born and raised in East Vancouver and currently resides in Brooklyn, NY. Coming from a musical family, he was instructed by his grandfather, Lloyd Arntzen, who taught him New Orleans jazz from the age of seven. Having traveled the world to perform, Evan has established himself as a powerful young voice in jazz, in demand as a soloist and performer in the realms of traditional jazz, modern/contemporary jazz, and improvised music.
Evan has been playing for swing dancers for over a decade and was a fixture in the early days of Lindy Bout. We are thrilled that he will again be joining us for the weekend; all bands playing at LBXI will feature Evan!
The Arntzens: Three Generations of Jazz Band
Led by the legendary Lloyd Arntzen, this talented family band features five Arntzens and three honourary Arntzens. With equal parts musical dexterity, jazz preaching, and rollicking rhythms, this family knows how to throw the very best jazzy party.
The Arntzens will be playing on Thursday night. And a smaller version of the family band will play Sunday's musicality workshop.
Thursday Evening: Lloyd Arntzen (clarinet), Evan Arntzen (clarinet/saxophone), Tom Arntzen (piano), Alan Matheson (trumpet), Arnt Arntzen (banjo/guitar), Jen Hodge (bass), Scott Robertson (drums), Georgina Arntzen (vocals)
Sunday Workshop: Lloyd Arntzen (clarinet), Evan Arntzen (clarinet/saxophone), Alan Matheson (trumpet), Tom Arntzen (piano), Jen Hodge (bass), Scott Robertson (drums)
Josh Roberts Orchestra
​The Josh Roberts Orchestra was founded as an eight-piece orchestra in 2014 for Vancouver's local Frankie 100 celebrations and expanded into a ten-piece, hard-swinging big band in 2016 for Lindy Bout X. The band features the music of Count Basie, Jimmie Lunceford, Chick Webb, and many other greats of the thirties and forties. With the polished skills of an all-star cast of band members, the end result is a repertoire stacked with irresistible high energy music that sends you right back to the Swing-era dance halls.
This year, we are thrilled to have the Josh Roberts Orchestra playing both Friday and Saturday nights - with a giant, fifteen-piece version on Saturday!
Friday Evening: Josh Roberts (guitar), Bonnie Northgraves (trumpet), Adrian Smith (trumpet), Luis Melgar (trombone), Evan Arntzen (saxophone), Jens Christiansen (saxophone), Ben Henriques (saxophone), Shannon Thue (piano), Wynston Minckler (bass), Nick James (drums)
Saturday Evening: Friday's line-up, plus Chris Davis (trumpet), Brian Harding (trombone), Ellen Marple (trombone), Jack Stafford (saxophone), Saul Berson (saxophone), and Wynston Minckler (bass; replacing Jen Hodge).
The Brothers Arntzen
The Brothers Arntzen play swinging, sweet, and hot music for dancers and listeners alike. Raised in the New Orleans style of jazz music by their grandpa, the brothers have developed their own, joyful sound derived from this musical tradition. The Brothers are on a mission to bring this timeless music to people aged 2 to 95.
On Sunday evening, the Brothers will be playing a tribute to Slim and Slam: voice-rhythm from the original hipster, Slim Gaillard and his partner, bass virtuoso Slam Stewart, will echo into modern day through the mouths of two brothers from East Vancouver.
Sunday Evening: Evan Arntzen (clarinet/saxophone/vocals), Arnt Arntzen (guitar/vocals), Jen Hodge (bass), Julian McDonough (drums), Casey McGill (piano/ukulele/vocals)
The Jazzy Wranglers
Back for a second year, The Jazzy Wranglers will be leading our outdoor jazz jam. Dancers, bring your instruments! Musicians, bring your dancing shoes! At the Lindy Bout XI jazz jam, everyone can play music, everyone can dance, and together we can create a big ole' jazzy party.
Friday Afternoon: Evan Arntzen (clarinet/saxophone), Jen Hodge (bass), Don Ogilvie (guitar) — plus ALL the Lindy Bouters and ALL the musical guests playing ALL the instruments.
Evening and Daytime DJs
Our evening and daytime DJ team features some of the best DJs from the West:
Joel Schwarz (DJ Smack) — Vancouver 
Julia Franta (DJ Frantana) — Victoria 
Laura Spencer  — Seattle 
....plus Meghan Gilmore, of course.