Register!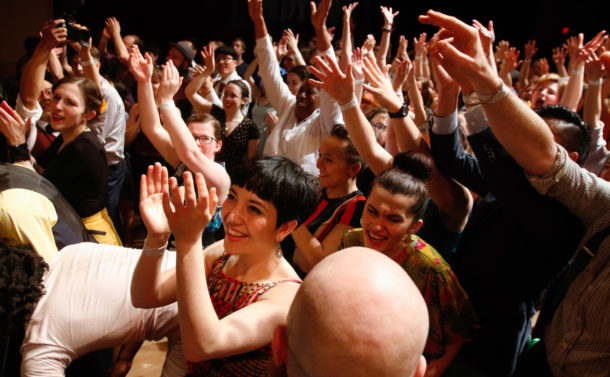 Registration
Lindy Bout XV is SOLD OUT!

Our waiting list is full. For information about how the waiting list works, see our FAQ. 
Thank you, Lindy Bouters, for your incredible enthusiasm and support to make our final year the best Bout yet.
Lindy Bout registrants must agree to our Code of Conduct, COVID-19 Policy, Photography Guidelines, Refund Policy, and Waiver.
Event Pass
Lindy Bout XV Event Passes provide admission to all Lindy Bout XV events, including four nights and three days of dancing and activities. All competitors must hold an Event Pass. 
A Lindy Bout XV Event Pass costs $212 CAD.
Lindy Bout is a volunteer-run event and we more-or-less break even every year. This year, we are setting our pass price right at the break-even point: $212 CAD.
We realize that not everyone can afford this. If you are in a situation where a discount would help make Lindy Bout a bit more affordable for you, use the code minus15 for a 15% discount. 
If you are in the position to support the event a little more, and help subsidize people who can't afford the full price, you can choose to increase your pass price by 15% by using the code plus15. 
Over the last three years, we've been overwhelmed by the support and generosity of the Lindy Bout community and the trust you have in us. By offering these codes, we're sharing the same trust with you. 
This is the final year of Lindy Bout. Any funds left in our bank account after we pay all our bills will be reinvested into our jazz community.
At-the-Door Entry
There may be extremely limited space at the door for some Lindy Bout XV evening and daytime events. We will not be selling tickets at the door on Friday and Saturday evenings. More information about at-the-door admission will be available in early April.
We are not selling Dance-Only Passes for Lindy Bout XV.
Check out our Facebook event page for the most recent event announcements.
Important Registration Information and Refund Policy
If You're Competing
To compete in any match you must be registered and have also paid for a Lindy Bout XV Event Pass.
In couple, Short & Sweet, and Mapleweight registrations, only ONE dancer needs to register and pay for that match. Each dancer must have their own Event Pass.
Pass Transfers
You can transfer your Event Pass to someone else for Lindy Bout XV. There is no charge to transfer your Event Pass. All requests for Event Pass transfers must be received by April 15, 2023, except in exceptional circumstances. 
You are welcome to transfer your pass to a friend or you can transfer your pass to someone on the waiting list. If you wish to transfer to somone on the waiting list, contact us. Please do not post on social media. We have a process for offering passes to people on the waiting list, and want to prioritize getting passes to people that signed-up for that list.
Refund Policy
Match fees are non-transferable. Match fees are refundable until March 15, 2023. Starting March 16, match fees are non-refundable.
Lindy Bout XV Event Passes are not refundable, with the following exception:
If you develop COVID-19 symptoms or test positive for COVID-19 in the days and weeks prior to Lindy Bout, you must, at a minimum, follow the requirements of the BC Centre for Disease Control. Please do not attend Lindy Bout until your symptoms have resolved. 

We will provide a full refund (minus credit card processing fees) for anyone who does not attend Lindy Bout because of COVID-19 symptoms and/or a positive COVID-19 test on or after April 13th. You must contact us before the event begins in order to receive a full refund.
If you become ill during the event, please contact us and we will encourage you to get tested for COVID-19. We will refund the prorated amount left during the event from the time you become ill. 
If you experience exceptional circumstances that prevent you from attending Lindy Bout XV, and you are unable to transfer your pass to another dancer, and you think you warrant a refund, please contact us to discuss your situation.